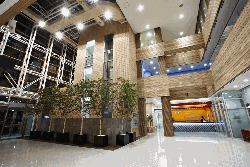 Hi Seoul Youth Hostel, opened on March 2, 2011, is a convenient and safe accommodation providing youth and adults visiting Seoul with differentiated facilities and service. Moreover, many activities and events are available for international people to exchange cultures and to experience Seoul. Being located at Youngdeungpo-gu, Seoul, it has a convenient traffic condition allowing the guests to reach many attractions in Seoul in a short time, such as Time Square(Youngdeungpo, Seoul), Cheonggyecheon, Gwanghwamoon and others. In 95 guest rooms of the 7-story building with one basement, max. 330 guests can stay, and its facilities including the auditorium, conference rooms, restaurants, coffee shop, resting room, and kitchen which are available for various events including seminars and group training. All the staff do the best efforts for tourists to make beautiful memories, for youth to have a dream, and for business people to make their event successful.
ONLINE BOOKING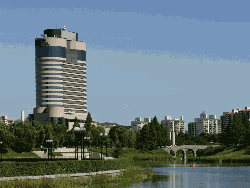 Olympic Youth Hostel has opened its door in September, 1990, in Seoul to utilize youth accommodation facility, vitalize global youth exchange and function as an academic house and now it is the representative youth training facility in the country. Olympic Youth Hostel has proudly become the country's largest hotel-typed youth hostel by successfully holding huge scale sporting events such as the inaugural meeting of the Torino Winter Olympic team, the opening ceremony of the Korea Sports Association for the Disabled, the installation of the Beijing Olympics base camp for Brazil, Spain, Germany, Hungary, Canada, etc., all sorts of ceremonies and domestic and international conferences. Also, with its close distance to cultural amusement facilities such as Seoul Olympic Museum, SOMA Museum of Art, Lotte World, and to large hospitals like Asan Medical Center, it has equipped the best condition for youth training and education geologically and environmentally.
ONLINE BOOKING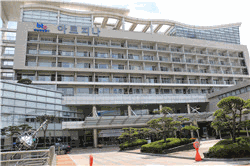 Busan Arpina Youth Hostel for young travellers from all over the world, participants of international events, and families vacationing in Haeundae. Busan Arpina Youth Hostel is convenient and clean accommodation as well as additional facilities (such as banquet halls and gyms) are available at Arpina, making it one of the top youth hostels in the country and even in the world. Arpina provides a wide range of services that are better than what regular accommodation offer. Since its establishment in 2004, the Arpina Busan Youth Hostel, with its customer-oriented service mindset, is making inroads into the youth hostel industry as a high-profile international center of culture and recreation that represents Korea. Arpina has 110 rooms for everyone from youths travel abroad to participants of international conventions to families vacationing in Haeundae. Guests can also enjoy various additional facilities, such as numerous banquet halls (including the Grand Ballroom) for international conventions, seminars, wedding halls, restaurants where you can enjoy the beautiful night scenery, driving ranges, pools, yoga and fitness centers, sauna and hot massage parlors.
ONLINE BOOKING